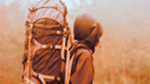 Anand Mahadevan
Urachikkottai, Tamil Nadu
Language: english
I am an activity provider, we do Bungee jumping, Kayaking, Trekking, and many water activities in all over India. I Love to spend most of my time with travelers. I have experience of about 20 years in travel field. I have served Indian and foreigner tourist ,here on LastClues I have created many activities with trust of giving best to all my guests. You can easily access my LastClues Profile from all social media websites.
Copyright © LastClues 2015-2022
The content used on this website are copyright protected and copyrights vests with the respective owners.
The usage of the same on this website is intended to promote the works and no endorsement of the artist shall be implied. Unauthorized use is prohibited and punishable by law.